PIE Back to School Breakfast aims for $200,000 for scholarships
What starts with barbershop harmonies and ends with a marching band? It's the Partners in excellence Back to School Breakfast, held Sept. 27 at the Garage at R House in Remington.
In between performances by students from the Catholic High School of Baltimore's Barbershop Club and the school's green-and-black clad band members, the Archdiocese of Baltimore touted the success of the Partners in Excellence (PIE) Scholarship Program, which in 28 years has funded more than 30,000 scholarships to the tune of $39 million in Baltimore City Catholic schools.
The breakfast, a 10-year tradition, brings together students, educators, donors and business executives for what emcee Mark Viviano, sports director of WJZ, called "a beautiful way to go beyond what PIE does. … Your continued support is a testimony to the benefit of education in our students' futures."
In a city that needs hope, we need to invest in children so they can have a future and become the leaders of the next generation, Viviano said.
Laura Gamble, regional president of PNC Bank, said her company has supported the archdiocesan schools through PIE for more than a decade. When PNC surveyed its employees about where to put its philanthropic dollars, "the employees said they wanted to support children," she said.
The return on investment in early education makes a difference, she said.
"We have seen this in Catholic schools," Gamble said.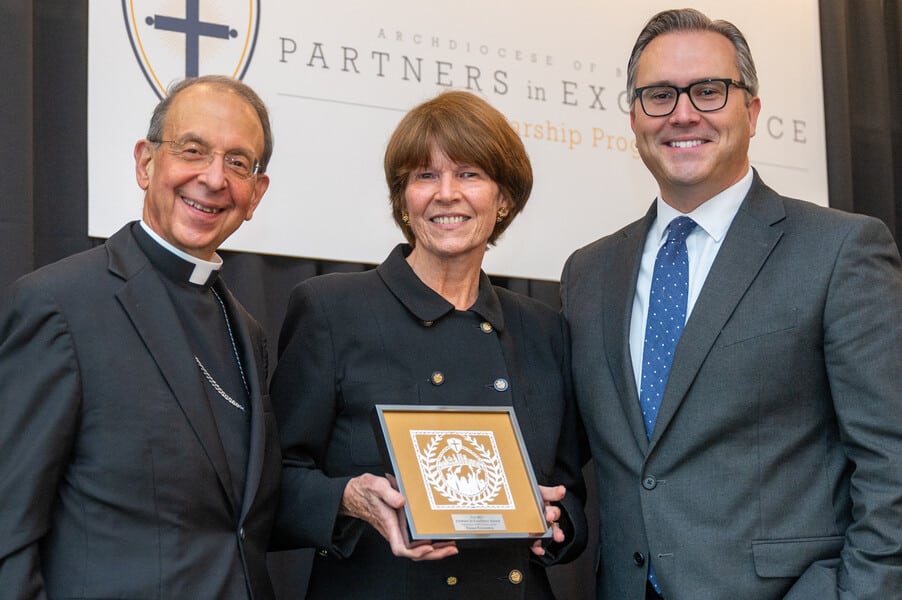 Tom Geddes, a partner with Brown Advisory and the chairman of the PIE advisory board, noted that although September is not the beginning of the calendar year, it's a good time to think about new beginnings.
He called on those in attendance to help provide 80 PIE scholarships at $2,500 each – $200,000 – in 24 hours. He said members of the advisory board and an anonymous donor pledged to match the first $55,000 in donations at pieschools.org/give or via QR codes posted on tables at the breakfast.
Within a few hours, the match goal had been met, and PIE reported $125,000 in donations by 1 p.m., enough to fund 50 need-based scholarships.
Attendees also heard from Cindy Figueroa, a student at Our Lady of Mount Carmel in Essex and one of the first graduates of Archbishop Borders School to receive a Pathway to Bilingual Literacy Certificate via a program in partnership with Boston College. Cindy benefitted from PIE scholarships for six years at Borders, where she was able to "learn about my faith and explore it every day."
She said she was able to learn her parents' native language at Borders, the only dual-language (English and Spanish) immersion school in the archdiocese. A former public-school student, she said the difference was remarkable when she started at a Catholic school, with smaller classes and individualized attention.
Archbishop William E. Lori awarded the Partners in Excellence Award to Elaine Pevenstein, a consultant who first served on the PIE board in 2013 and now serves on the archdiocesan school board, for her "efforts so that our students have a bright future."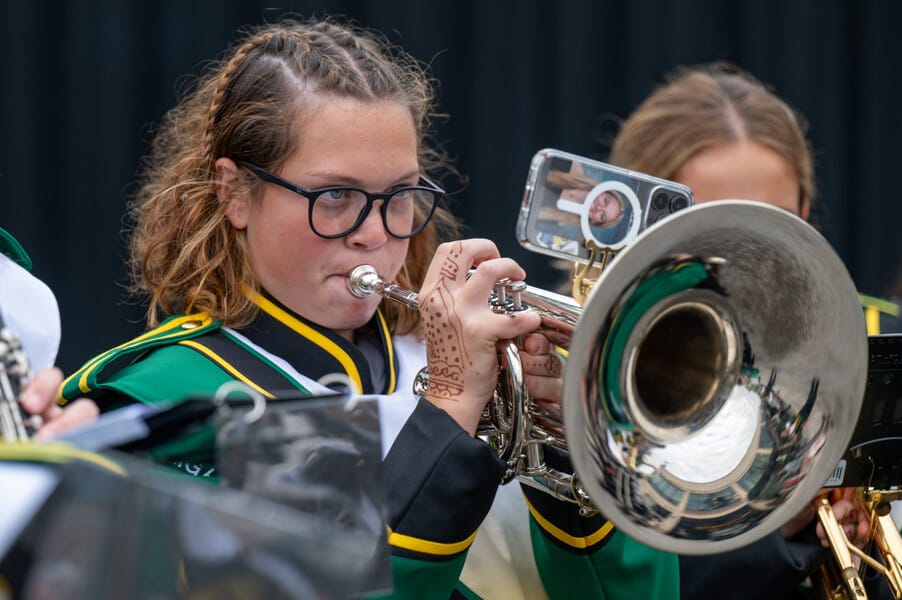 "Your impact goes beyond our schools," the archbishop told Pevenstein. "You have impacted the lives of your fellow Catholics and fellow Marylanders. Your example of selfless service inspires all of us here this morning, and countless others."
Archbishop Lori said the number of scholarships and millions distributed to students "is the power of partnership, the result of working together. … The opportunities you provide create ripple effects in the families of our students and our entire Baltimore community."
He added, "Education, especially faith-based education, can transform lives. It helps students grow – spiritually, academically, physically, socially. Our schools offer an excellent academic formation, beginning with religious formation – an opportunity to experience God's love – as well as STEM, language arts and civics to name a few.
"In our schools, young people learn respect for one another and the value of teamwork. Most of all, they learn how to grow to become the persons God has called them to be," he said, noting that Catholic school students go on to high school, college and leadership in their chosen careers and broader community, the archbishop said.
Archbishop Lori thanked the students; teachers and school administrators; and benefactors, including breakfast sponsors Conewago, Fulton Bank, Lewis Contractors, Marquette Associates and WesBanco.
In his remarks, the archbishop also remembered two Baltimoreans who had recently passed away: Orioles great Brooks Robinson, whom the archbishop called "everybody's partner," and Frank Bramble Sr., former chairman of the archdiocesan school board, "a tremendous friend of education."
Viviano also praised Robinson, noting that everyone who was talking about the Hall of Famer since his passing the day before was "talking about not what he did as a ballplayer, but what he did since then."
He also noted that in interviews with sports figures, he often learns things he cannot use on TV, but can share in audiences such as the PIE breakfast. He said Baltimore Ravens quarterback Lamar Jackson attributes to God his ability to stay humble through it all.
"Without God, I have nothing and I'm nobody," the sportscaster quoted the quarterback.
He said that Orioles' Gunnar Henderson, a likely choice for MLB rookie of the year, admits that the most important thing in his life is Christ, and that Ravens' coach John Harbaugh and kicker Justin Tucker say the same.
Before calling up the Catholic High Marching Band, one of the only all-girls marching bands in the region, to finish the morning, Viviano reminded the audience of the ambitious $200,000 goal, calling it "a direct investment of the young people in our city."
And then, fittingly, the emcee reminded the 130 people in attendance to take home a mini apple-toffee pie as a sweet reminder of the PIE breakfast.