2018 End-of-Year Report
"Children must be able to play, study and grow in a peaceful environment.  Woe to anyone who stifles their joyful impulse to hope!"
– Pope Francis
                The 2018-2019 school year marks the 23rd year that PIE has awarded tuition assistance grants to Baltimore City students.  While much has changed regarding how the PIE program is administered, the mission of PIE remains the same – and the Pope encapsulates this mission in his quote above.  Every child is a gift and each has unique gifts to offer.  Our Catholic schools are wonderfully equipped to nurture their students and help them discover what they have to offer the world.
The role that PIE plays in all of this is simply to offer the opportunity of a Catholic school education to children and families who otherwise may not have such an opportunity.  We deeply believe that investing in children in this way is making our community and our world much stronger.
PIE Scholarship Awards
This year, PIE was able to award 808 tuition assistance grants, the majority of which (73%) were directed to students at the four Community Schools in the city. The median family income of the PIE Scholars at the four Community Schools is $29,833, which is well below the Baltimore City MHI of $46,641 (US Census bureau, 2017 dollars).  The median household income for all PIE Scholars this year is $32,396.
The 808 PIE Scholars are receiving a total of $1,548,825 in tuition assistance support, which averages $1,917 per PIE Scholar.  While this average award is significantly lower than recent years, much of this has to do with the increasing (positive!) impact of the State of Maryland's BOOST Scholarship Program.
Now in its third year, both funding for and awareness of BOOST has prompted a change in how PIE (and other tuition assistance grants) are awarded.  Because many of our PIE Scholars are eligible to receive BOOST funding, we encourage families to apply to this state-run program.  When families receive word if they are to receive a BOOST grant (which ranges between $1,000 and $4,400), PIE is then able to 'fill-in-the-funding-gaps', as needed.  As such, there are a number of multi-year PIE Scholars whose PIE award this year has decreased because of the amount they receive from the BOOST program.
With some of our returning PIE Scholars not needing as much from PIE, we have been able to award PIE scholarships to new students, hence the increase in total PIE awards from 642 last year to 808 this year, a 26% increase.
The overall increase in tuition support has fostered enrollment growth at our Community Schools.  Cardinal Shehan School enrollment grew by 32 to 430 students.  At Holy Angels, enrollment rose by 36 students to 238. The four Community Schools have an overall enrollment of about 1,108 students, which represents an increase of 6% from last school year.
2018-2019 PIE Award Summary
| | | | |
| --- | --- | --- | --- |
| | PIE Scholars | PIE Funding | Ave. Scholarship |
| Overall (24 schools) | 808 | $1,548,825 | $1,916.86 |
| Archdiocesan Community Schools (4) | 590 | $1,151,000 | $1,950.85 |
| Archbishop Borders School | 140 | $292,000 | $2,085.71 |
| Cardinal Shehan Catholic School | 166 | $295,900 | $1,782.53 |
| Holy Angels Catholic School | 180 | $310,100 | $1,722.78 |
| Ss. James and John | 104 | $253,000 | $2,432.69 |
| Archbishop Curley High School | 58 | $120,000 | $2,068.97 |
If you have more questions about how/where PIE awards are distributed, please let us know!
Giving Back
Our PIE Scholars and their classmates, despite their own tough circumstances, have been taught and encouraged to find ways to help those in need.  The 2018-2019 Year of Service for the Catholic Schools of the Archdiocese has inspired each of our Community Schools to create meaningful service opportunities that show them the value in giving back to their communities.  Here are a couple examples of how our Community School students have been giving back this year.
Holy Angels Students Visit Their "Grandfriends"– The students at Holy Angels travel to St. Elizabeth's Nursing Center to spend time with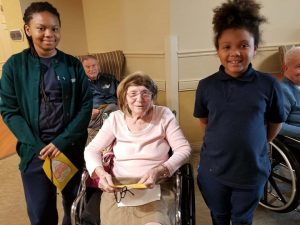 the elderly, who they affectionately call "Grandfriends". Each month, they keep the residents company by reading them stories, singing them songs, and helping them make crafts. These visits from Holy Angels students brighten their day!
Feeding the Community – The students at Archbishop Borders have participated in a variety of service opportunities to help feed their communities. In October, the middle school students visited First Fruit Farms, a nonprofit Christian ministry that grows food for the hungry. The students learned about the farm and went out in the field to help harvest potatoes. In November, they held a food drive to collect canned goods for Thanksgiving. They donated their collections to Assisi House Food Pantry in Fells Point.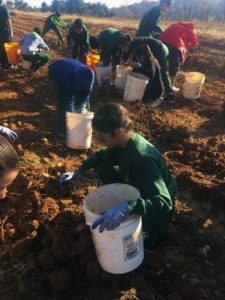 Parade for the Cure – Throughout October, students at Cardinal Shehan held bake sales and tag day fundraisers leading up to their Annual Pink Parade. The students paraded around the community to raise money for The Johns Hopkins Sidney Kimmel Comprehensive Cancer Center to provide hope and healing for those battling breast cancer.
Additional PIE News
In January, John Von Paris, President of Von Paris Moving and Storage, assumed the role of Chair of the PIE Board of Advisors. John succeeds Tom Kurowski, who had served as Chair for five years. We are deeply grateful for Tom's outstanding leadership and are excited to work with John as we look to increase the impact that PIE has on the community.
This September, we held our 6th Annual PIE Back-To-School Breakfast and our 4th Annual PIE Giving Day. We were thrilled to honor Constellation with the 2018 Partners In Excellence Award at the breakfast. The Cardinal Shehan Choir wowed the audience with yet another amazing performance, and we were inspired by speakers Janae Lawson (Constellation) and former PIE student Alexis Watson (Seton Keough '13, Mount Saint Mary University '18). We were overwhelmed by the generosity of people like you when we saw over $50,000 in gifts made to PIE in 24 hours. The PIE Giving Day continues to raise awareness of the program and garners new supporters each year.  In the first four years of this initiative, we have raised $300,000.  Thank you!
The M&T Charitable Foundation renewed their multi-year commitment to Partners In Excellence and the mission of Catholic education with a five-year, $250,000 pledge of support. We estimate that this grant will create over 100 PIE over the course of the grant. We are deeply grateful to M&T Bank for their help in expanding STEM and financial literacy programs at Holy Angels – and their continued investment in educating Baltimore City students!
The 10th Annual Archdiocesan Gala was held on September 28th at the Marriott Waterfront Hotel and drew over 800 attendees. The event, chaired by Tom Geddes (Plank Industries), raised a record breaking $818,000 in support of tuition assistance for Catholic School students. This included over $30,000 in Text2Fund donations during the event itself. An inspiring performance by the Cardinal Shehan Choir, and thoughtful words from keynote speaker Sister Rita Michelle OSP, made this our most memorable Gala yet.
Since April, the Archdiocese has been conducting a quiet campaign to raise $18.5 million to build the first new Catholic school in Baltimore City in over 50 years. The planned 21st-century school is slated to become the new combined home of Holy Angels and Ss. James and John. It is also expected to attract new students from West Baltimore, as well.
As of early December, over $17 million has been raised for the school, which will be located off Martin Luther King Blvd, near the University of Maryland BioPark.  The school is scheduled to open for the 2021-22 school year.
Conclusion
With a long-term track record of helping students matriculate on to a college-prep high school (averaging a 80%+ rate) and into a 2-or-4 year college (80%+), PIE and its generous partners have changed the course of countless lives for the better. As you look toward 2019, please consider a visit to one of our Community Schools to see, firsthand, the power of your Partnership. THANK YOU!
Mid-Year Update
(January 2019)
As the 1st semester wrapped up shortly after the holiday season, we had the opportunity to review some PIE data.  We found out that about 80 students who had been awarded a PIE Scholarship at the start of the school year either did not officially enroll or they withdrew within the first couple of months.  We are working with to determine why these students opted not to remain in our schools.
The vast majority of these students were aligned with our four Community Schools.  Holy Angels Catholic School and Archbishop Borders School were the two schools that saw the largest amount of no-shows/withdrawals.
As PIE funds were 'freed-up', they were re-allocated to other PIE eligible students.  Most of the reallocated funds were given to current PIE Scholars as $500 or $1,000 're-allocation' awards, depending on the need of the student/family.
| | | | |
| --- | --- | --- | --- |
| | PIE Scholars | PIE Funding | Ave. Scholarship |
| Overall (24 schools) | 722 | $1,548,825 | $2,145 |
| | | | |
| Community Schools | 510 | $1,151,000 | $2,257 |
| Archbishop Borders | 111 | $292,000 | $2,631 |
| Cardinal Shehan | 156 | $295,900 | $1,897 |
| Holy Angels | 139 | $310,100 | $2,231 |
| SS James and John | 104 | $253,000 | $2,433 |
| | | | |
| Archbishop Curley HS | 58 | $120,000 | $2,069 |