From The Catholic Review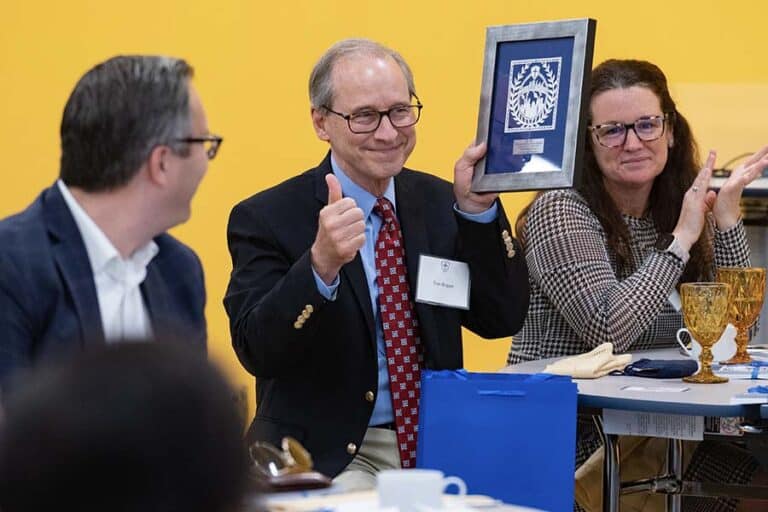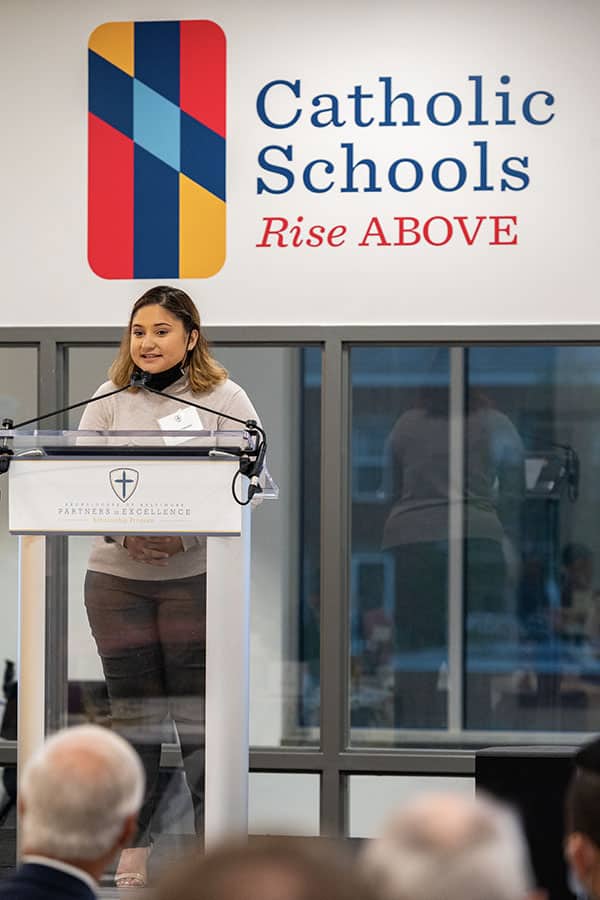 Riccy Amador considers it a blessing to have been a former scholarship recipient through the Archdiocese of Baltimore's Partners in Excellence program.
"Growing up, so many doors closed for me because I did not have a green card," she said, speaking at a Sept. 23 breakfast for PIE supporters gathered at Mother Mary Lange Catholic School in west Baltimore. "I was not eligible for many scholarships because I did not have a permanent residence."
A native of San Lorenzo Valle, Honduras, Amador arrived in the United States at age 6 in 2006.
Amador recalls the words of her mother, Blanca Delao, "I want you all (Amador siblings) to be better than me." Her mother's highest education level was third grade and she "lived on the streets begging for food." She remembers her mother saying, "I do not want my children to go through that, I want them to have the education I could not have."
Amador, a 22-year-old parishioner of Sacred Heart, was a PIE scholar from kindergarten through eighth grade at Archbishop Borders School in Highlandtown. She also attended Cristo Rey Jesuit High School in southeast Baltimore. She is currently a senior majoring in sociology at Loyola University Maryland in north Baltimore and aspires to become an immigration lawyer. Her brothers, Carlos Amador and Selvin Amador, were also PIE scholars. Carlos, 27, earned a bachelor's degree from Loyola University Maryland and a doctorate in pharmacy from Notre Dame of Maryland University. Selvin, 26, earned a degree in engineering from Loyola University of Maryland.
"Catholic education taught me to always have hope and not leave it (school)," Amador said. "And I lived by that; keep going and have faith that things will work out."
The scholarship program that helped students such as Amador and many others is celebrating its 25th anniversary. PIE launched in 1996, when Cardinal William H. Keeler brought together partners in the community who cared about Baltimore, young people and their future.
During the Sept. 23 breakfast, Archbishop William E. Lori recognized five founding partner companies and their current representatives, who have donated more than $6.7 million to PIE over the past 25 years. Among those were Stacey Van Horn from T. Rowe Price Foundation; Laura Gamble from PNC Bank; Augie Chiasera, Anna Smith and Christine Chandler from M&T Bank; Chima Dike and Brandon Luzar from Constellation Energy; Tim Regan, Irene Knott and Kellie Montgomery from Whiting-Turner Contracting Company.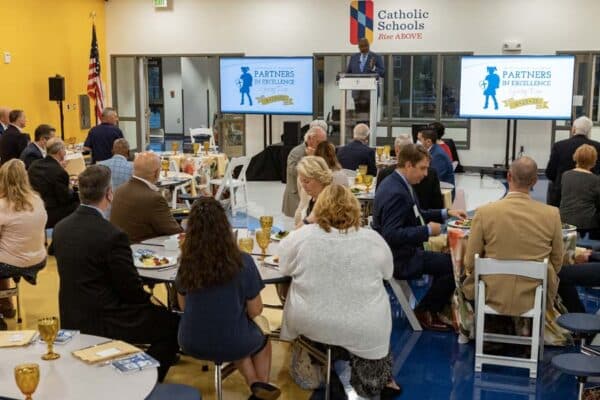 PIE exists to "serve young people with the best possible school where they could grow, and develop and become those persons God always meant them to be," Archbishop Lori said.Gamble, regional president of PNC for Greater Maryland, said her company continues to support PIE because of the "high-quality early childhood education" it helps enable.
"It does give a child such a better trajectory in life," she said, "(With) good quality early childhood education you are going to go farther both educationally and from a career perspective."
More than $36 million in tuition and nearly 29,000 scholarships have been awarded in the past 25 years.
About 70 percent of tuition assistance goes to three community schools: Archbishop Borders Catholic School, Cardinal Shehan Catholic School and Mother Mary Lange Catholic School. The next school to receive the most assistance is Archbishop Curley High School, which has an average of 50 PIE scholars.
The average PIE scholarship is $2,000; for community schools it averages $2,500 and for Archbishop Curley $2,200.
For the academic year 2021-22, PIE expects to award $1,325,000, an equivalent of 600 to 700 scholarships.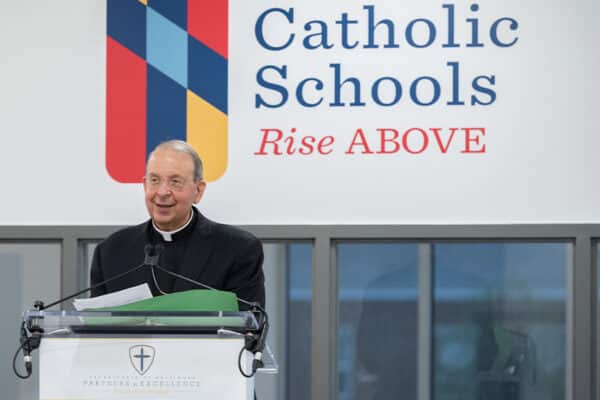 Although he did not attend Catholic schools as a child, auxiliary Bishop Adam J. Parker is a strong supporter of Catholic education because he believes "in the potential to transform the city of Baltimore."
"I am concerned," he said. "Many people within our community need to hear the message of the Gospel, and where are the messengers of the voice of the Lord?"
"Catholic education is a substantial way in which we can evangelize our culture," Bishop Parker said.
Matthew "Matt" Anthony, director of PIE who has worked at the program for 18 years, said the reason Catholic schools exist is the same reason why PIE exists.
"That is, because every single child is designed and created by God," he said, "and they are worthy of dignity, respect, love and be cared for."
Email Priscila González de Doran at pdoran@CatholicReview.org